Getting Your Home Ready to Sell
One of the first steps a listing agent will do is review a prospective home and evaluate its readiness for the market. The home could fall into one of 4 broad categories: 1) the staged home; 2) the average home; 3) the below average home; and 4) the vacant home.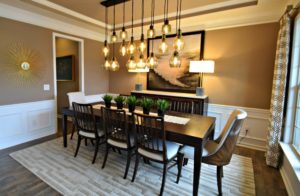 Today, we'll focus on the staged home. Most sellers have a sense that they need to make the home ready for the market, while others believe buyers should be able to "see around the belongings" and find the underlying value of the home. While sometimes the latter happens, it's important to remember that more often than not buyers have choices.
The Buyer's Psychology
Roughly two-thirds of buyers select their new home based on the emotional connection they have made. It's not rocket science, just what feels right. This being the case, the simple questions buyers often fall to are: Which home looks good now? Which home should look good for me?
A staged home is about suggestion. It's about giving an impression of how rooms should be used, without overwhelming the buyer's imagination. Given that buyers have choices, we can help them decide favorably by keeping their decision simple, and eliminating any negatives or distraction with the home we're trying to sell.
Studies find that a professionally-staged home can sell up to 88% faster than the equivalent home without staging, as well as for 6%-20% more. Sounds great, right? Not so fast. While prices vary, the average cost of professional staging is $500-$600 per month per room. Ouch!
DIY Staging
Of course, the seller can go a long way toward staging their home themselves, and forego the cost of a pro, by keeping in mind some tried and true tips:
Go minimal horizontally and vertically. Leave walls open from unnecessary furniture, wall art and accessories.
Keep everything clean and orderly.
Neutralize colors, patterns and decor. This also means you should store uniquely personal items such as family photos.
Have only 1-2 touches of color per room.
There are plenty of articles online providing even room-by-room details for staging. In short, the staged home is neatly decorated, fairly minimalist, but with enough brightness to give the room some cheer. Impress, but leave room for the imagination…that's the power of suggestion.
The Ally Group provides superior support for prepping homes in the Greater Charlotte and Lake Norman areas. Not only have we developed expert eyes, but we provide a simple but thorough checklists for our homeowners to follow, or can all upon our professional contacts for the tougher cases. Give us a call at 704-957-2232 or 704-975-2429 for help. When it comes to selling a home, where all the world is about staging, we'll treat your home like its up for a Tony Award, and get you sold quickly and at top dollar!